WIN32_Asynch_IO.h File Reference
#include "ace/config-all.h"
#include "ace/Asynch_IO_Impl.h"
#include "ace/Addr.h"
#include "ace/Event_Handler.h"
#include "ace/Handle_Set.h"
#include "ace/Map_Manager.h"
#include "ace/Null_Mutex.h"
Include dependency graph for WIN32_Asynch_IO.h:

This graph shows which files directly or indirectly include this file: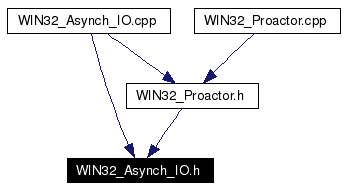 Go to the source code of this file.
---
Detailed Description
WIN32_Asynch_IO.h,v 4.39 2006/01/25 19:43:55 jwillemsen Exp

The implementation of ACE_Asynch_Transmit_File, ACE_Asynch_Accept, and ACE_Asynch_Connect are only supported if ACE_HAS_WINSOCK2 is defined or you are on WinNT 4.0 or higher.
Author:

Irfan Pyarali <irfan@cs.wustl.edu>

Tim Harrison <harrison@cs.wustl.edu>

Alexander Babu Arulanthu <alex@cs.wustl.edu>

Roger Tragin <r.tragin@computer.org>

Alexander Libman <alibman@ihug.com.au>
Definition in file WIN32_Asynch_IO.h.
---
Variable Documentation
The factory method for this class is with the POSIX_Proactor class.

Definition at line 47 of file WIN32_Asynch_IO.h.
---
Generated on Thu Nov 9 11:18:36 2006 for ACE by

1.3.6