Place Information

W. Arunachal
W.AP Logistics
Pakke
Eaglenest
Dirang-Tawang



Lists

Mammals
Birds
Herpetofauna
Butterflies
Other Invertebrates
Plants
Fungi



Images

Mammals
Birds
Herpetofauna
Butterflies
Other Invertebrates
Plants
Fungi
Landscape



Miscellaneous

Eaglenest Biodiversity Project
Reports/Links
Arunachal Macaque
References

Acknowledgements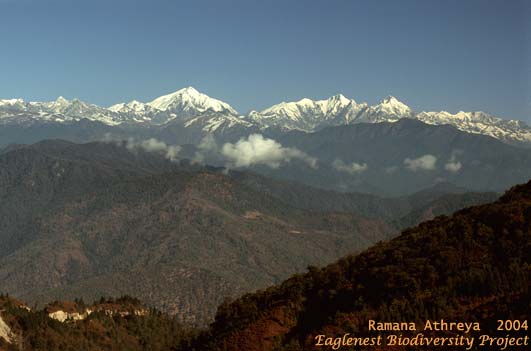 The Gorichen range, the state's highest, separates Tibet from Tawang from Bomdila


Western Arunachal Pradesh

Dirang - Tawang
Page content :
Birding Areas
Boarding & Lodging
Contact Addresses
Entry Permits
General Information
Link to landscape images
Map of the area
Transport
Miscellaneous
the

newly described

Arunachal Macaque

---
General Information
Area : This sprawling region spread over 2 districts is not part of any protected area




Altitude :

1500-4300+ m (all of it accessible by road)


Lat-Long :

27.5N 92.1E, W. Kameng & Tawang districts, Arunachal Pradesh See map


Nodal Locations :

Dirang (W. Kameng) and Jang (Tawang)
Vegetation Type

:

dry inner valleys, cultivation, temperate broad-leaved and conifer forests, scrub, alpine meadows.


Best Season - Birds :

April-June & October-December, depending on snowfall


Best Season - butterflies :

monsoon (May - September)
Speciality Birds : Monal pheasant, blood pheasant, Satyr and Temminck's tragopans, black-necked crane, long-billed plover, ward's trogon, alpine accentor, eyebrowed thrush, white-throated redstart, slender-billed scimitar-babbler, brown-throated tit-babbler/fulvetta, coal tit, rufous-bellied tit, rufous-fronted tit, eurasian treecreeper, fire-tailed sunbird, beavan's bullfinch, brown bullfinch, white-winged grosbeak, red-billed chough.


Birding Areas
3-5 days is required to cover this vast area which has some really special birds. Doing this area by public transport, other than Sela Pass, is not possible.

Dirang (W. Kameng)
Sangti Valley : (1600m). Dry inner valley with pine stands and cultivation. The only black-necked crane wintering area in India (1-10 birds in late November-February only)


Mandala - Sela ridge road :

(2200-3700m). Temperate broad-leaved forest and scrub, extensive conifer stands and summer pastures.



Sela Ridge :

3500-4500m. Demarcates the W. Kameng - Tawang district border. Treeline vegetation (conifers, birch and rhododendron, dwarf scrub) and alpine meadows.
The highway itself has decent roadside birding between Baisakhi (8 km beyond Sengay) and Sela Pass and also further beyond on the Jang side. A road goes off from the Pass to Chabre La and then to B.J.Gompa. This passes through extensive alpine meadows and tree-line vegetation.



Jang (Tawang)




Jang - B.J.Gompa road :

2800-4300m. Temperate bamboo, broad-leaved and fir forests; alpine meadows. The entire road is open during summer; snow conditions determine access rest of the year, when it gets quite chancy above 3500m.


Jang - Rama Spur road :

2800-3800+m. Temperate bamboo, fir and rhododendron forests with clearings. The road begins to descend beyond the highest point at 3800m. But one can climb higher on foot.


Boarding & Lodging
Dirang

(1625m, Grade 3) : couple of decent hotels (doubles at Rs. 500-1500) and several other basic ones and restaurants.


Sengey

(3000m, Grade 4) : (3000m ) : PWD IB (2-4 people). CCC!


Sangti

:

(1600m, Grade 5) : Sheep breeding centre IB (?). Camping by river.
Jang : (2200m - Grade 3) : A PWD IB (8 people). CCC!


B.J.Gompa

: (4200m? - Grade 5) : a buddhist monastery, opens during summer. It is in the alpine zone and may be a good place for exploring the area, if accommodation is available there.
See town grade and accommodation descriptions


Contact

As of now there is no local contact person in Dirang or Jang. Mr. Indi Glow of Tenga can help with making the arrangements.


More Information on the area

:

Ramana Athreya email (rathreya at ncra . tifr . res . in)


Bird Tours :

Kaati Tours

& Mr. Indi Glow (President, Bugun Welfare Society)


Mr. Glow : Tenga Market, Tenga, W. Kameng, Arunachal Pradesh, Ph 91-3782-273359
Kaati Tours : Ph +91-2132-245770

email (kaati_tours at vsnl . net)


Entry Permits

Arunachal entry permits are required for both Indians and foreigners and are checked on entry at Bhalukpong. The Circle Officers at Tenga/Singchung/Bhalukpong/Bomdila/Dirang/Jang can issue fresh permits to extend the stay (for Indians only).

No other permits are required. However, this area has a very heavy army presence; any group of birders with serious optics should take the time to inform the local army officials of their presence especially if they plan to wander far from the highway - this is also a good safety precaution in case unseasonal snowfall leaves the party stranded far from habitation.


Transport

This is a region of early starts and long commutes with Dirang and Bomdila being the only place for those who require very comfortable sleeping quarters. Bomdila, Dirang, Sela and Jang lie on the Tezpur-Tawang highway and are served by several daily buses and shared taxis. But the Sela Pass is the only area which can be accessed solely by public transport. All other localities are off the highway and may not have any traffic for days on end. So a reliable jeep and good weather are essential for visiting these places. Diesel vehicles must be capable of handling sub-zero conditions. The army is responsible for keeping these roads open and are quite efficient at clearing snow and rocks from the highway but sometimes it can take a day or two in case of heavy snowfall in winter (January - March). It is best not to attempt the side roads after the first winter snow (usually in late December).

The Mandala - ChabriLa road is still not through; construction is going on about 20+ km beyond Mandala.



Distances




Dirang - Bomdila :

42 km


Dirang - Sangti :

10? km


Dirang - Mandala :

28 km, good forest for another 20 km towards ChabriLa


Dirang to

:

Sengay

37 km,

Baisakhi

45 km,

Sela Pass

61 km,
Sel

a to

:

ChabriLa

11 km,

B.J.Gompa

17 km,

Jang

59 km (side road)


Sela to :

Jang

37 km,

Tawang

77 km (along the highway)


Jang - highest point on Rama Spur road :

32 km
Typical speeds on these hill roads are 20 kmph, both ascending and descending
See also transport in W. Arunachal


Miscellaneous
Map of Dirang-Tawang Areas
click here for map details and an overview of W. Arunachal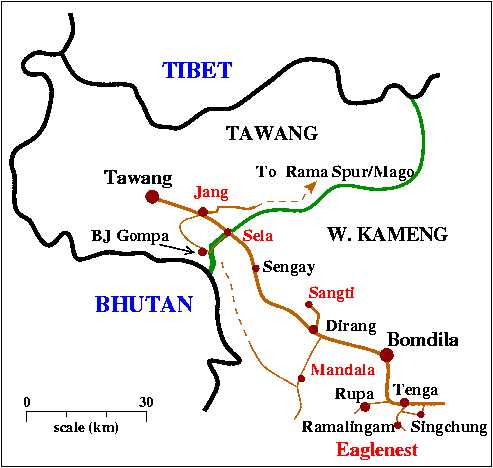 (top)

---
The

Eaglenest Biodiversity Project

was funded by a grant from the Rufford Foundation (UK) to Ramana Athreya.


The information contained herein may be freely used, provided that these webpages and/or the report (Athreya 2005) are appropriately cited. The images are copyright and may not be reproduced without permission from Ramana Athreya
The author would appreciate an email from people, scientists and tourists alike, who found these webpages useful.