Place Information

W. Arunachal
W.AP Logistics
Pakke
Eaglenest
Dirang-Tawang



Lists

Mammals
Birds
Herpetofauna
Butterflies
Other Invertebrates
Plants
Fungi



Images

Mammals
Birds
Herpetofauna
Butterflies
Other Invertebrates
Plants
Fungi
Landscape



Miscellaneous

Eaglenest Biodiversity Project
Reports/Links
Arunachal Macaque
References

Acknowledgements
Western Arunachal Pradesh
Logistics

Page content :
Boarding & Lodging
Contact addresses
Entry Permits
Map of the Area
Map details
Transport
Miscellaneous

---
The information below is focused towards helping an Indian group organise its own tour - as per Government regulation foreigners have to be a part of an organised tour by a recognised tour agency but even they should find this section helpful. Even for Indians an organised tour, while more expensive, will save a lot of time. Organising the logistics after arriving in Arunachal Pradesh is not difficult but will require 1-4 days depending on the complexity of the schedule.

Boarding and Lodging
In general, a group of 1-4 visitors will always find a place to spend the night, no matter how remote, as long as there is some habitation. The people of W. Arunachal are a peaceful bunch and very helpful. Always carry emergency provisions - while your hosts will ensure that you don't sleep on an empty stomach they may have to restock their larder with articles brought in on foot from the nearest market up to 40 km away - money may not compensate for that!

Most accommodation is quite basic, perhaps the price to be paid for visiting a true wilderness. For a larger group (more than 6 people) it would be more comfortable to get the tour operator to organise a tented camp. Always assume that no amenity will be available at a lodging, unless specifically confirmed just before the tour by a local contact. It would be simplest to ferry it all in as part of the camp baggage.

The available

categories of accommodation

are :


Good hotels :

with clean sheets, bathroom and appearance; only Bomdila and, surprisingly, Dirang.


Basic hotels :

clean sheets, bathrooms barely acceptable; Tenga, Bhalukpong, Bomdila and Dirang


Government Inspection Bungalows (IB) :

requires permission from some local official. They are allotted to tourists when empty but tourists may be asked to leave if a high honcho turns up at night. They are usually available except during long week-ends and during end March. They are very comfortable in general - the Govt takes care of its own!


Forest Resthouse (FRH) :

Forest Department IBs. The well-visited ones are as good as the IBs but the ones in remote areas are not as well maintained; still comfortable lodgings


GREF sheds :

currently or previous used by a road construction team. Essentially a concrete or sheet "tent" with toilet facilities, a cooking hut and water piped in from a nearby stream. They may have a couple of pallets and perhaps a wood-burning heater. No electrical power. Permission to use the sheds can be obtained from the local chowkidar, or better still, especially for a larger group, from the GREF officer in Tenga. All amenities have to be ferried in. GREF is the army engineering group responsible for constructing and maintaining many Arunachal roads


Camping :

indicates a flat area with water nearby. Permission may be required to pitch tents.

'?'

indicates that I dont know if anyone has actually camped there, but the possibility exists.



CCC!

used in the other pages, stands for "Chowkidar Can Cook" indicating that given instructions and provisions and for a fee the Chowkidar will serve a simple but filling meal of rice, roti, dal, vegetables, eggs, etc. Provisions will have to be carried in by the tour party.


Contact

Eaglenest Biodiversity Project :

Ramana Athreya email


More Information on the area

:

Ramana Athreya email (rathreya at ncra . tifr . res . in)


Bird Tours :

Kaati Tours

& Mr. Indi Glow (President, Bugun Welfare Society)


(Mr. Glow) Tenga Market, Tenga, W. Kameng, Arunachal Pradesh, Ph 91-3782-273359
(Kaati Tours) Ph +91-2132-245770

email (kaati_tours at vsnl . net)
Entry Permit
Indians as well as foreigners require a permit, the

Inner Line Permit (ILP)

and

Restricted Area Permit (RAP)

, respectively, to enter Arunachal.



ILP

s can be obtained from any one of
1. the Secretary (Political), Govt. of Arunachal Pradesh, Itanagar.
2. Arunachal Pradesh Resident Commissioners in Kolkata, New Delhi, Guwahati and several other places in north-east India.

1-week tourist permits, costing Rs. 25, are routinely issued. Proof of citizenship is sometimes demanded - a copy of passport, ration card, voter's ID, or driver's license will suffice. This process takes a day (or occasionally two) and can be initiated by a FAX. It can also be applied for through a tour agency. Once inside Arunachal the district officials (Circle officer, assistant commissioner) can either extend the old permit or issue a new one.



RAP

s can be obtained from
1. Indian embassies/consulates : easiest for a single-country group.
2. Home Ministry, Govt of India
3. Home Commissioner, Govt of Arunachal.

The 10-day permit requires a group of 4-14 tourists all with valid visas, costs 50$ per person (minimum 200$, i.e. 4 people) and it is mandatory for the tour to be organised by an Arunachali tour operator. In practice, obtaining a permit is part of the tour operator's job - foreign tourists dont have to do anything other than get an Indian visa and pay the tour operator. Entry formalities on the state border take less than 10 minutes. Eaglenest, Pakke and Sela Pass lie along a designated "Tourist Route" and a permit can be obtained within a week or two though allowing a month is a safer option. Smaller groups/longer stays/non-tourist routes may (or may not) necessitate a permit application a month or two in advance. All permits are checked at the entry points (at Bhalukpong or Seijusa1 for the areas dealt with here).



Map details
These webpages show 5 maps including the location of Arunachal Pradesh, an overview of Western Arunachal Pradesh and details of Pakke, Eaglenest and Dirang-Tawang areas. In all the maps
1. the international border is a thick black line and adjacent countries are labeled in blue.
2. The Assam-Arunachal state border is in thinner black line
3. District borders inside Arunachal - between Tawang, W. Kameng and E. Kameng - are in green
4.

The principal wildlife areas are shown in red


5. Roads are in brown (highways - thick; secondary roads - thin; under construction - dashed)
6. Rivers are in blue - the Kameng river of Arunachal is called Jai Bhoreli in Assam.
7. The size of the dots indicating towns indicates their size.
8. The scale is only approximately correct.


Transport
Public transport between a pair of settlements typically operates once a day, usually in the morning. Because of this a change of bus sometimes results in a wasted day even if the distance is short. Many routes have a weekly day off for vehicle maintenance and "no-shows" occur now and then. Always give yourself an extra day to get out from an interior area. A tour by public transport subtracts at least 2-3 days from the field.

Alternatively, if you can afford it hire a vehicle either for a drop-off and pick-up or for the entire duration of the tour. Vehicle rental costs Rs. 1200-1500 per day plus fuel and includes the driver's wage and perhaps his living expenses.

Even when a 4WD is not essential it is strongly recommended. Diesel could freeze in the higher reaches and so petrol vehicles are better. However newer diesel vehicles with fuel heating circuits should not face this problem.

Expect road blocks due to landslides and rockfalls during the monsoon. Blocks on the highway itself are cleared on an emergency footing by the army but it could take a day or two. Winter (November-March) is generally free of this hassle though a snowfall can block the road around Sela Pass (4200m) - again cleared by the army on a priority basis. Motorcycles are good even in case of roadblocks and highly recommended for a single researcher who cannot afford a jeep. Do not assume that a secondary road is open unless you have specific recent information that it is so.



Distances




Guwahati - Tezpur

: 180 km (3-4 hour by jeep, 4-5 hr by bus; bus every 15 minutes)


Guwahati - (Tezpur) - Bomdila

: 12 hr bus journey (1 state transport bus per day)


Guwahati - (Tezpur) - Itanagar

: 10 hr bus journey (many private buses)


Tezpur - Bomdila

: 137 km (4-5 hr by jeep; several daily buses and shared jeeps)


Tezpur - Itanagar

: 214 km (several daily buses)


Tezpur - Balipara

: 24 km (zillions of vehicles) Balipara is the intersection from where roads to Pakke (Itanagar highway), Eaglenest-Dirang-Tawang (Bomdila highway) and Eaglenest south slope (Missamari road) separate. Rental vehicles are available here.


Miscellaneous

Grading of towns and settlements


Grade 1 :

A large city with most facilities - only Guwahati in the north-east. It is well connected by train and air to the rest of India and is the hub of the north-east bus network.


Grade 2 :

A large town, typically a district HQ with a large and varied market and a hospital or two and several practising doctors. Will also have internet facilities - Bomdila, Tezpur and Itanagar (capital of Arunachal)


Grade 3

: shops stock most food items and many essential personal articles (footwear, clothes, torches, basic medicines, torch, cells, etc). Rental vehicles should also be available. They also have a very basic Govt. health facility (a small room with a doctor and a dispenser), good for a few antibiotics, wound dressing etc. Public phones with STD/ISD access are usually present as well as a post office and police station. - Tenga, Seijusa, Bhalukpong, Dirang, Jang.


Grade 4 :

one or two tiny shops which stock just essential food items. May not have any health facility - Doimara, Tipi, Sengay.


Grade 5

: no facilities at all except perhaps a few sheds or an FRH.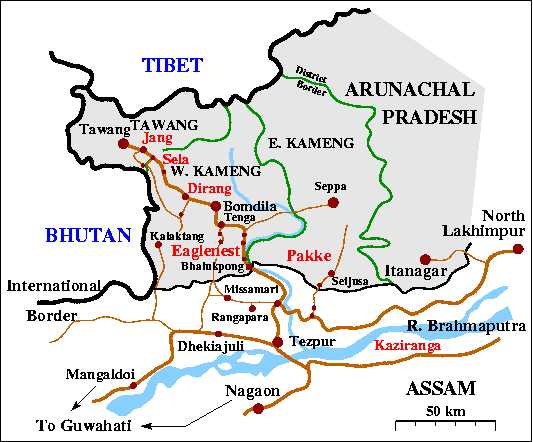 (top)

---
The

Eaglenest Biodiversity Project

was funded by a grant from the Rufford Foundation (UK) to Ramana Athreya.


The information contained herein may be freely used, provided that these webpages and/or the report (Athreya 2005) are appropriately cited. The images are copyright and may not be reproduced without permission from Ramana Athreya
The author would appreciate an email from people, scientists and tourists alike, who found these webpages useful.