Place Information

W. Arunachal
W.AP Logistics
Pakke
Eaglenest
Dirang-Tawang



Lists

Mammals
Birds
Herpetofauna
Butterflies
Other Invertebrates
Plants
Fungi



Images

Mammals
Birds
Herpetofauna
Butterflies
Other Invertebrates
Plants
Fungi
Landscape



Miscellaneous

Eaglenest Biodiversity Project
Reports/Links
Arunachal Macaque
References

Acknowledgements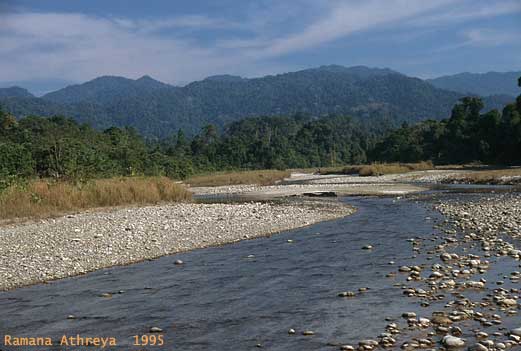 Lalong river above Khari in Pakke Tiger Reserve
Western Arunachal Pradesh
Pakke Tiger Reserve
Page content
Birding Areas
Boarding & Lodging
Contact Addresses
Entry Permits
General Information
Link to landscape images
Map of the area
Transport
Miscellaneous

---
General Information
Area : 862 sq. km
Altitude : 100-2000m (accessible 100-300m)
Lat-Long : 27.1N 93E, in E. Kameng district, Arunachal Pradesh, India See map


Reserve HQ

/ Entry points :

Seijusa1/ Seijusa1 and Tipi
Vegetation Type

:

lowland evergreen forest, shingle banks, farmland, plantations. Though Pakke and Kaziranga are both at very low elevations the vegetation is very different and therefore so are the birds.


Best Season - Birds :

November-March (April)


Best Season - butterflies/herps :

monsoon, especially May and October. Butterflies were active even in December but not in April.
Speciality Birds : jerdon's baza, pied falconet, white-cheeked hill-partridge, grey peacock-pheasant, elwe's crake, ibisbill, emerald cuckoo, red-headed trogon, green-pigeon spp., forest eagle-owl, wreathed and great hornbills, collared and long-tailed broadbills, blue-naped pitta, lesser shortwing, white-browed shortwing, daurian redstart, leschenault's forktail, lesser necklaced laughing-thrush, silver-eared leiothrix, white-bellied yuhina, yellow-bellied flycatcher-warbler, sultan tit, ruby-cheeked sunbird, maroon oriole, crow-billed drongo,


Birding Areas
Seijusa1 :

2-4 days
1. Garden and woodland around the Forest Dept complex
2. Farmland and scrub, 2-4 km up to and beyond Seijusa2
3. Woodland and open scrub across the river around the FRH and animal enclosures
4. Shingle banks of the river
5. Forest along the first 2 km of the Khari road
Khari : 2-4 days
1. Forest-edge around the FRH
2. 2-3 km of the road towards Seijusa,
3. Forest edge along streams and rivers.
4. Animal trails into the forest
Khari has a wonderful view. There are few experiences to beat sitting on the platform in the evening, pleasantly tired after a great day of birding, with a hot cup of tea and snacks and watching a large elephant herd ford the river below while emerald and rufous-bellied plaintive cuckoos are trying to raise the dead in the tree behind. In 1994, our evening ritual during a full week was to welcome a flock each of both broadbills as they settled in the vicinity for the night! Spot-bellied eagle-owls have been seen in the area as well.


Tipi

: 1-2 days
1. Roadside birding along the highway
2. The river below the FRH
3. Cross the river and follow the trail into the forest


Boarding & Lodging
Seijusa1

(Grade 3) : Furnished FRH (4 people) just outside the Park. CCC! Camping? Power supply erratic.


Khari

(Grade 5) : furnished FRH (4 people). Camping? CCC! No electrical power.


Tipi

(Grade 4) : furnished FRH (4 people). Camping? CCC! Has electrical power.


Bhalukpong

(Grade 3) : several IBs (?), 5 km from Tipi. Also a couple of very basic hotels and restaurants.
See town grade and accommodation descriptions


Contacts

As of now, there is no contact person around Pakke itself for making arrangements for visitors but we are in the process of identifying interested persons. Forest Dept officials have been very helpful in the past in hiring vehicles and camp staff locally. Mr. Indi Glow of Tenga may be requested to make arrangements here as well.


More Information on the area

:

Ramana Athreya email (rathreya at ncra . tifr . res . in)


Bird Tours :

Kaati Tours

& Mr. Indi Glow (President, Bugun Welfare Society)


Mr. Glow : Tenga Market, Tenga, W. Kameng, Arunachal Pradesh, Ph 91-3782-273359
Kaati Tours : Ph +91-2132-245770

email (kaati_tours at vsnl . net)


Entry Permits

Arunachal entry permits are required for both Indians and foreigners and are checked at Seijusa1. The Circle Officer at Seijusa2 can issue fresh permits to extend the stay (for Indians only).
Forest entry permits are issued by the

Divisional Forest Officer, Pakke Tiger Reserve, Seijusa. E. Kameng district, Arunachal Pradesh. Phone +91-3778-222229 (off), 222230 (res). He is also the authority for alloting the FRH and permission to camp.



Transport

Walking inside the park is permitted if accompanied by a forest guard. The only vehicle track inside the sanctuary is between Khari and Seijusa. All other areas have to be accessed on foot or on an elephant.



Seijusa

1 : 1-2 buses daily between Seijusa2 and Tezpur. Vehicles can be rented in Tezpur (Rs. 700-1000 for a drop-off), Balipara and Chaibari (shared jeeps Rs. 25 or a full vehicle for Rs. 300-500). Chaibari, locally pronounced Soibari, is on the Tezpur-Itanagar highway and is a request stop for all buses plying that road.


Khari

: The Pakke bridge was washed away last monsoon but one can ford the river on foot, by jeep or forest Dept elephants, depending on the flow and continue in the same mode to Khari 10 km away (Rs. 500 for elephant or jeep). One could send the baggage by elephant and walk the distance - excellent birding along the track.
Tipi : is on the Tezpur - Bomdila highway with several daily buses from Tezpur and Itanagar. Shared and rental jeeps ply from Tezpur, Balipara and Bhalukpong.

Visiting these 3 areas by public transport will necessitate a travel overhead of 3-4 days. With a private vehicle the travel component will be 1 day. See also transport in W. Arunachal



Distances


Tezpur - Balipara 24 km;


Balipara to : Chaibari

19 km,

Itakhola

23 km,

Seijusa1

41 km,

Seijusa2

44 km.


Balipara to : Bhalukpong

36 km,

Tipi

41 km.



Miscellaneous
Seijusa1 has the Arunachal entry police checkpost, the Forest Dept offices and a couple of shops only; get down here for Pakke. The main village, Seijusa2, is about 3 km further up the road.

Nameri National Park of Assam is contiguous with Pakke Tiger Reserve, lying just across the Assam-Arunachal state border at both Seijusa1 and Khari.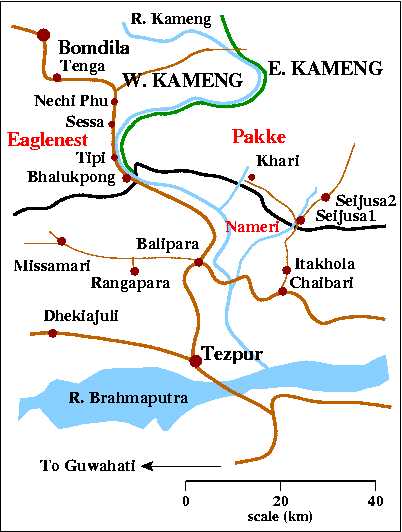 (top)

---
The

Eaglenest Biodiversity Project

was funded by a grant from the Rufford Foundation (UK) to Ramana Athreya.


The information contained herein may be freely used, provided that these webpages and/or the report (Athreya 2005) are appropriately cited. The images are copyright and may not be reproduced without permission from Ramana Athreya
The author would appreciate an email from people, scientists and tourists alike, who found these webpages useful.