Place Information

W. Arunachal
W.AP Logistics
Pakke
Eaglenest
Dirang-Tawang



Lists

Mammals
Birds
Herpetofauna
Butterflies
Other Invertebrates
Plants
Fungi



Images

Mammals
Birds
Herpetofauna
Butterflies
Other Invertebrates
Plants
Fungi
Landscape



Miscellaneous

Eaglenest Biodiversity Project
Reports/Links
Arunachal Macaque
References

Acknowledgements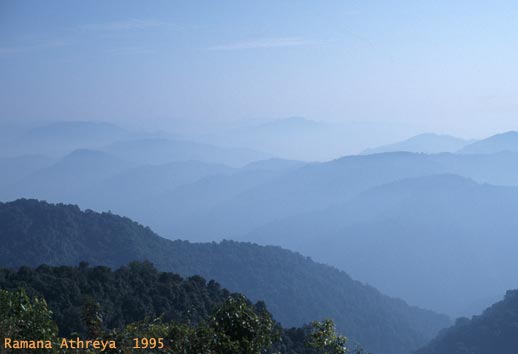 Hithaeglir

- The Mountains of Mist from Nechi Phu, on the Bomdila highway

Western Arunachal Pradesh
Page content :
Links to the principal localities
An introduction to Arunachal Pradesh
India map with location of Arunachal Pradesh

---
Localities
Pakke Tiger Reserve floodplains, lowland evergreen and riverine forests. (alt. 100-300m)
Eaglenest Wildlife Sanctuary tropical, subtropical, and temperate forests (alt. 500-3500m)
Dirang-Tawang black-necked cranes; temperate forests and alpine meadows (alt. 1500-4500m)


Introduction
The East Himalayan state of Arunachal Pradesh, rising from 100m to 6000m altitude across a distance of just 100-150 km, hosts one of the finest wildlife assemblages that Asia has to offer . Many areas of Arunachal are justly famed for their biodiversity – Namdapha, Mehao, Dibang Valley to name a few – but none can match Western Arunachal in the ease with which a tourist or a scientist can observe wildlife across 4500m of altitude.

From the lush lowland evergreen forests of Pakke Tiger Reserve (alt. 100-300m), adjacent to the grasslands and riverine woodland of the Brahmaputra valley, through the sub-tropical and temperate forests of Eaglenest (alt. 500-3500m), to the breathtaking views of permanent snow above the alpine meadows of Sela ridge at 4500m – nowhere else in this state can one stroll or motor along roads covering the entire altitudinal stretch.

For all this access the area is practically unknown to visitors - less than a dozen birders have visited Eaglenest in the last decade. Ditto with Pakke and other areas. Only last year a new macaque - the first in 100 years - was described from Tawang. In just a few short visits over the course of a year our Eaglenest Biodiversity Project has yielded many range extensions of birds and snakes which are stubbornly resisting efforts at identifying them; perhaps new species as well. After working hard to keep away tourists during the last few decades, the state government has woken up to the prospects of tourism and is actively wooing tourists, both foreign and Indian - offering them a chance to savour the most spectacular wildlife experience that India has to offer.

Several much sought after birds like ward's trogon, wedge-billed and rufous-throated wren-babblers, rufous-necked, great and wreathed hornbills, black-necked crane (winter), beautiful nuthatch, emerald cuckoo (summer) are standard fare in this area. Other mouth-watering specialities which can be seen with some perseverance and knowledge are 3 tragopans, blood pheasant, monal, ibisbill, purple cochoa, long-tailed and collared broadbills, blue-naped pitta, vivid niltava, long-billed plover and black-headed shrike-babbler, to name just a few - in fact more than half the species on the 450+ birdlist would qualify as specialities on any birder's list!

The other fauna that we have recorded during our project there in 2004 as well as during past visits include many mammals (including a red panda and black bear), 20+ species of snakes, 150+ species of butterflies – there is something for all visitors no matter their special focus. Sport fishing and white-water rafting are also making an appearance in the area.

No visit to Arunachal Pradesh would be complete without a trip to Kaziranga, the last stronghold of the Indian Rhinoceros. On the way into Arunachal Pradesh a short detour of 75 km serves up prospects of highly endangered mammals like the rhino, swamp deer, wild buffalo, and even a tiger and, for a birdwatcher, 500+ species of birds! This latter group includes the bengal florican, black-breasted parrotbill, slender-billed babbler, finn's baya and both adjutant storks, among a host of others.

Visiting the area
A well-prepared, mobile team of birders spending 2 weeks in Western Arunachal and another 3-4 days at nearby Kaziranga can easily go back with 400+ bird species on their list, and many special birds at that, apart from spectacular scenery, wonderful mammals and other wildlife. There is wildlife to be seen all through the year.

The best time for birds is from December to March. May is a good time in Arunachal mountains for seeing elusive birds by tracking their song - such as purple cochoa, rufous-bellied shortwing and blue-fronted robin - as well as summer visitors like ruddy kingfisher, crow-billed drongo, emerald cuckoo, etc. Kaziranga itself would have lost its migrant winter population then. If two visits are possible the best combination is late December-Jan and May.

Visitors interested in herpetofauna and invertebrates, especially butterflies, should brave the monsoon between May and October. It is tough when it rains but the periods of sunshine in-between bring out these animals in large numbers.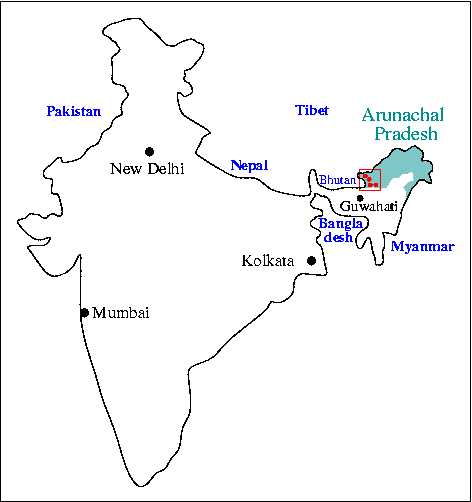 (top)

---
The

Eaglenest Biodiversity Project

was funded by a grant from the Rufford Foundation (UK) to Ramana Athreya.


The information contained herein may be freely used, provided that these webpages and/or the report (Athreya 2005) are appropriately cited. The images are copyright and may not be reproduced without permission from Ramana Athreya
The author would appreciate an email from people, scientists and tourists alike, who found these webpages useful.