Place Information

W. Arunachal
W.AP Logistics
Pakke
Eaglenest
Dirang-Tawang



Lists

Mammals
Birds
Herpetofauna
Butterflies
Other Invertebrates
Plants
Fungi



Images

Mammals
Birds
Herpetofauna
Butterflies
Other Invertebrates
Plants
Fungi
Landscape



Miscellaneous

Eaglenest Biodiversity Project
Reports/Links
Arunachal Macaque
References

Acknowledgements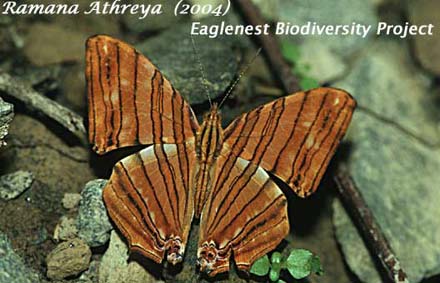 Common Maplet
Chersonesia risa
Khellong, Eaglenest
Butterflies of W. Arunachal Pradesh
Images (2)
Page Content :
Thumbnails of butterfly images


Links to other pages of butterfly images

Page 1

Page 2
---
click on the thumbnails for a larger image








Tabby
Pseudergolis wedah

Tabby


Pseudergolis wedah



Large Yeoman


Cirrochroa aoris

Indian Tortoiseshell


Aglais cachmiriensis











Common Jester
Symbrenthia lilaea

Himalayan Jester


Symbrenthia hypselis



Himalayan Jester


Symbrenthia hypselis

Autumn-leaf


Doleschalia bisaltide











Rich Sailer
Neptis nashona

Small Yellow Sailer


Neptis miah



Orange Staff Sergeant


Parathyma cama

Himalayan Sergeant


Parathyma opalina











Commodore ?
Limenitis danava

Green Commodore


Limenitis danava



Red Lacewing


Cethosia biblis

Red Lacewing


Cethosia biblis











Magpie Crow
Euploea radmanthus

? Chocolate Demon ?


Ancistroides nigrita



?Himalayan? Swift


Polytremis discreta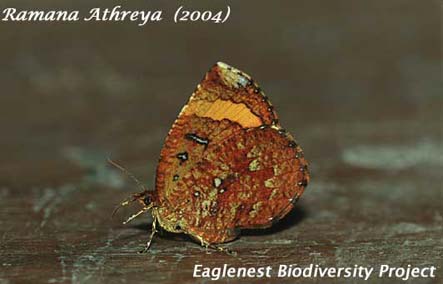 Moth

??

Eaglenest
---
The

Eaglenest Biodiversity Project

was funded by a grant from the Rufford Foundation (UK) to Ramana Athreya.


The information contained herein may be freely used, provided that these webpages and/or the report (Athreya 2005) are appropriately cited. The images are copyright and may not be reproduced without permission from Ramana Athreya
The author would appreciate an email from people, scientists and tourists alike, who found these webpages useful.