Lecture 18 - Telescopes (2/23/96)
---
Seeds: Chapter 5
Next Lecture - Atoms and Starlight
---

---
Images from Lenses and Mirrors
Focusing in a single thin lens: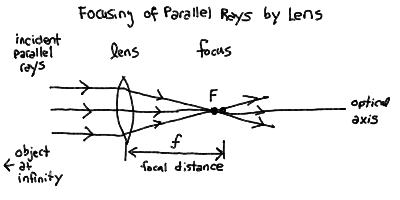 Image formation with a single thin lens, and the thin-lens equation: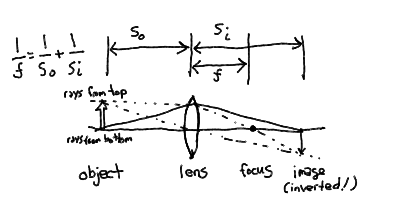 Focusing with a single paraboloidal mirror: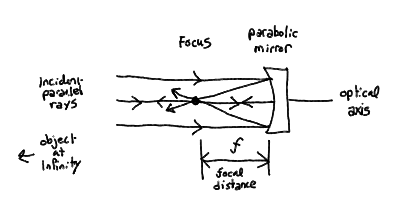 Image formation with a paraboloidal mirror: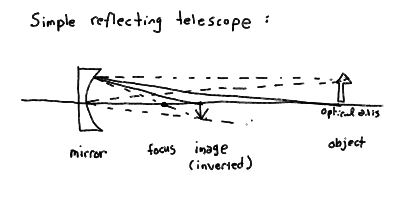 ---
Refracting & Reflecting Telescopes
A simple compound refracting telescope, with objective and eyepiece: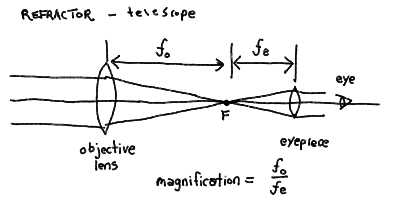 Three types of reflecting telescopes: prime focus, Newtonian, and Cassegrain: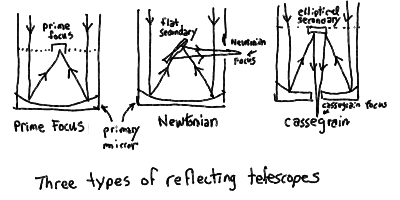 The Schmidt Camera and the Schmidt-Cassegrain Telescope: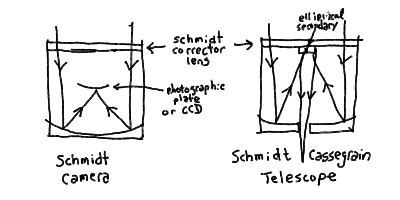 ---
The Light Gathering Power and image brightness: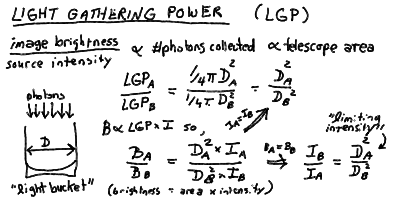 Resolving Power and resolution of telescope:
---
The ESO Very Large Telescope (VLT) is now under construction in Chile.

The twin 8-meter telescopes are being built the US National Optical Astronomy Observatory (NOAO) on Mauna Kea, Hawaii and in Chile.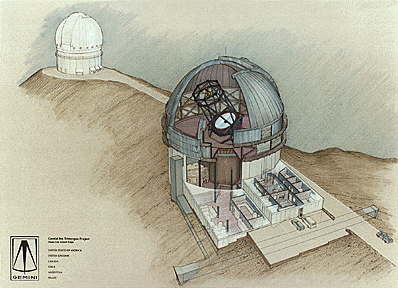 For many years, the 200-inch (5-meter) Hale Telescope at Palomar Observatory in California was the largest telescope in the world. It was finished in 1948. Here is a detailed construction drawing by Russell Porter from 1938: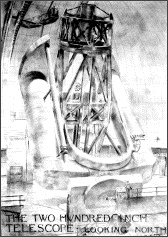 The Green Bank Telescope (GBT) is a large steerable radiotelescope being constructed in Green Bank, West Virginia, by the National Radio Astronomy Observatory (NRAO).
The NRAO Very Large Array (VLA) is an interferometric array of 27 antennas, each 25-meters in diameter, placed on railroad tracks on a high plain near Soccorro, New Mexico. This interferometer make radio images with the resolution of a single telescope 36 km across!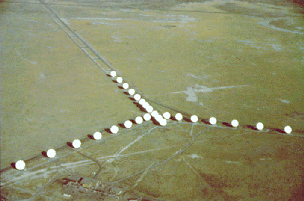 The Very Long Baseline Array (VLBA), constructed by NRAO, consists of nine 25-meter telescopes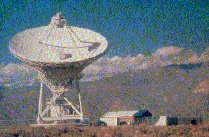 located at sites across the USA from Hawaii to the Virgin Islands.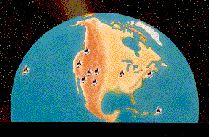 The longest baseline is 8612 kilometers, and the resolution is as good as a telescope of this enormous size!
The soon-to-be-launched VLBI Space Observatory Program (VSOP), is a 8-meter antenna on a Japanese satellite that will orbit the earth out to distances of 2.6 Earth diameters. In conjunction with ground-based VLBA telescopes, this will give a baseline of over 33000 km!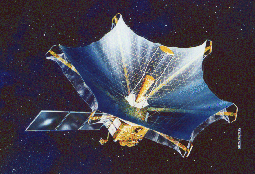 The NRAO has proposed building an interferometric Millimeter Array (MMA) that will do what the VLA does but at shorter wavelengths of 0.3 to 3 millimeters. The current design is for 40 8-meter telescopes arranged on a circular track in the high mountains of northern Chile.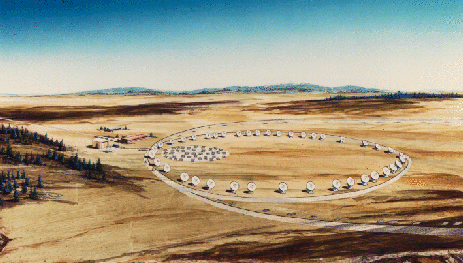 ---
Go to Previous Lecture ---- Go to Next Lecture
Back to the Lecture Notes Index
Back to the ASTR001/Sec3 Page
---
Steven T. Myers - Last revised 26Feb96