os_mman.h File Reference
#include "ace/config-lite.h"
#include "ace/os_include/sys/os_types.h"
Include dependency graph for os_mman.h: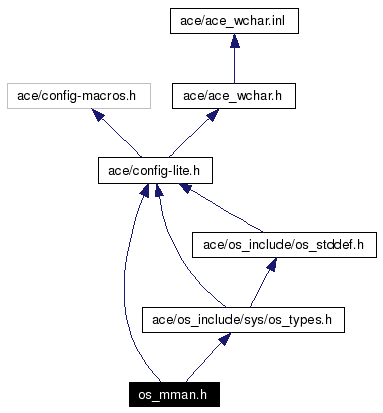 This graph shows which files directly or indirectly include this file: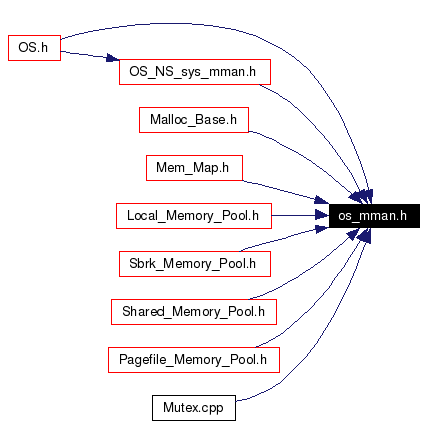 Go to the source code of this file.
---
Detailed Description
memory management declarations

os_mman.h,v 1.9 2006/05/19 20:27:08 shuston Exp
Author:

Don Hinton <dhinton@dresystems.com>

This code was originally in various places including ace/OS.h.
Definition in file os_mman.h.
---
Define Documentation
#define ACE_MAP_FIXED MAP_FIXED
#define ACE_MAP_PRIVATE MAP_PRIVATE
#define ACE_MAP_SHARED MAP_SHARED
#define MAP_FAILED ((void *) -1)
Definition at line 93 of file os_mman.h.

Referenced by ACE_Mem_Map::ACE_Mem_Map(), ACE_Mutex::ACE_Mutex(), ACE_Sbrk_Memory_Pool::acquire(), ACE_OS::event_init(), ACE_Mem_Map::map(), ACE_Mem_Map::map_it(), ACE_OS::mmap(), ACE_Mem_Map::operator()(), ACE_OS::sema_init(), ACE_OS::sendfile_emulation(), and ACE_Mem_Map::unmap().
#define PROT_RDWR PAGE_READWRITE
#define PROT_READ PAGE_READONLY
#define PROT_WRITE PAGE_READWRITE
---
Generated on Thu Nov 9 10:38:32 2006 for ACE by

1.3.6