Local_Name_Space_T.h File Reference
#include "ace/Name_Space.h"
#include "ace/Naming_Context.h"
#include "ace/SString.h"
#include "ace/Local_Name_Space.h"
#include "ace/Null_Mutex.h"
#include "ace/Hash_Map_Manager_T.h"
#include "ace/Local_Name_Space_T.cpp"
Include dependency graph for Local_Name_Space_T.h: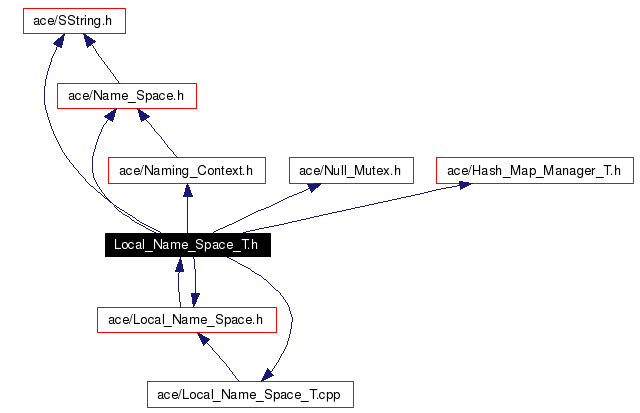 This graph shows which files directly or indirectly include this file: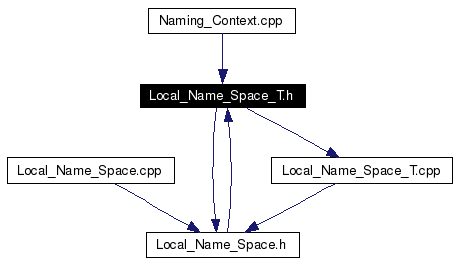 Go to the source code of this file.
---
Detailed Description
Local_Name_Space_T.h,v 4.39 2005/11/24 09:48:54 ossama Exp
Author:

Prashant Jain <pjain@cs.wustl.edu>

Irfan Pyarali <irfan@wuerl.wustl.edu> and

Douglas C. Schmidt <schmidt@cs.wustl.edu>
Definition in file Local_Name_Space_T.h.
---
Typedef Documentation
---
Variable Documentation
A short-hand name for our set of name/value/type tuples passed back to callers.

Definition at line 34 of file Local_Name_Space_T.h.
ACE_END_VERSIONED_NAMESPACE_DECL ACE_BEGIN_VERSIONED_NAMESPACE_DECL typedef MAP_MANAGER::ITERATOR MAP_ITERATOR
---
Generated on Thu Nov 9 10:23:10 2006 for ACE by

1.3.6