Dynamic_Service_Dependency.h File Reference
#include "ace/Dynamic_Service_Base.h"
#include "ace/Service_Object.h"
#include "ace/DLL.h"
Include dependency graph for Dynamic_Service_Dependency.h:

This graph shows which files directly or indirectly include this file: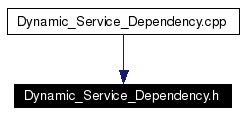 Go to the source code of this file.



Classes

class
ACE_Dynamic_Service_Dependency
Provides a way to declare dependency on specific service, thus helping to avoid order of initialization issues with instances of an objects whose implementation code resides in dynamically loaded services. More...


---
Detailed Description
Dynamic_Service_Dependency.h,v 4.3 2006/05/17 19:09:10 shuston Exp
Author:

Iliyan Jeliazkov <iliyan@ociweb.com>
Definition in file Dynamic_Service_Dependency.h.
---
Generated on Thu Nov 9 10:10:29 2006 for ACE by

1.3.6