Un puente a los cielos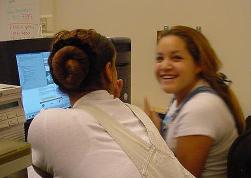 Un puente a los cielos is a summer program at the National Radio Astronomy Observatory in Socorro, New Mexico, which will run the summer of 2002, from approximately June 10 -- July 25. The program will use a team of bilingual Socorro high school students, a local teacher, the NRAO education and outreach specialist, a astronomer and a computer expert to translate astronomy web pages into Spanish and develop a tour of the Very Large Array for the community in Spanish.

Un puente a los cielos is funded by a NASA IDEAS grant.

The principal investigators include:
| | | |
| --- | --- | --- |
| Kristy Dyer | NSF fellow at NRAO-Socorro | kdyer@nrao.edu |
| Robyn Harrison | NRAO Education and Public Outreach Specialist | rharriso@nrao.edu |
| Allan Poindexter | Computing expert | apoindex@nrao.edu |

Partners in Un puente a los cielos include: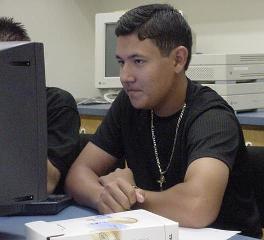 Web pages reviewers:
Thanks to Spanish-speaking astronmers around the world who have corresponded with the students about the web pages.
Spanish-Speaking Astronomers

Questions and comments can be addressed to:
Kristy Dyer kdyer@nrao.edu 505-835-7372
or
David Finley, NRAO press officer, dfinley@nrao.edu, 505-835-7302
---
Any opinions, findings, and conclusions or recommendations expressed in this material are those of the author(s) and do not necessarily reflect the views of the National Science Foundation.
---