Kenneth Greisen: Pictures and miscellaneous
---
You may click on these small pictures to see the full, more detailed versions. Most viewers put a line around the pictures that are clickable.

Ken at Kendal: October 2006 - The first picture with my new digital camera.
Ken at Kendal: September 2005 (left), with Peter Landecker July 2002 (center) and October 2002 (right).
Ken, Helen, and Kay (daughter) at the City Market and crossing Fall Creek, Ithaca November 1992.
Ken: formal retirement picture, 1984(?)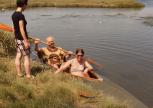 Ken with Heather (step-daughter) and Kay (my ex-wife), Cape Cod, June 1979
Ken and Helen's wedding, Ithaca, April 1976
Heather (step-daughter) and me in 2nd picture, Sigurd (Ken's brother) in fifth picture
Ken, Kay (daughter) and first wife Betty, June 1967.

Edith Cassel and Peter Landecker with the early Fly's Eye experiment at Cornell